Chapter 19 Technology in Business
This chapter focuses on the role of information technology (IT) in business, examining the details of MIS organization, as well as the challenges companies encounter in an increasingly technological world. As John Daly learned, harnessing the power of information technology gives a company a significant competitive advantage.
Transforming Businesses through Information
Information technology (IT) includes the equipment and techniques used to manage and process information. Information is at the heart of all organizations. Without information about the processes of and participants in an organization—including orders, products, inventory, scheduling, shipping, customers, suppliers, and employees—a business cannot operate.
In less than 70 years, we have shifted from an industrial society to a knowledge-based economy driven by information. Businesses depend on information technology for everything from running daily operations to making strategic decisions. Computers are the tools of this information age, performing extremely complex operations as well as everyday jobs such as word processing and creating spreadsheets. The pace of change has been rapid since the personal computer became a fixture on most office desks. Individual units became part of small networks, followed by more sophisticated enterprise-wide networks. figures 19.1 and 19.2 summarize the types of computer equipment and software, respectively, most commonly used in business management information systems today.
| Computer type | Description | Comments |
| --- | --- | --- |
| Tablets | Self-contained computers in which applications (apps) can reside. These devices can also be linked into a network over which other programs can be accessed. | Increasing power, speed, and memory accessed via the cloud make these tablets the dominant computer for many business processes. |
| Desktop personal computers (PC) | Self-contained computers on which software can reside. These PCs can also be linked into a network over which other programs can be accessed. | Increasing power, speed, memory, and storage make these commonly used for many business processes. Can handle text, audio, video, and complex graphics. |
| Laptop computers | Portable computers similar in power to desktop computers. | Smaller size and weight make mobile computing easier for workers. |
| Minicomputers | Medium-sized computers with multiple processors, able to support from four to about 200 users at once. | The distinction between the larger minicomputers and smaller mainframes is blurring. |
| Miniframe computers | Large machines about the size of a refrigerator; can simultaneously run many different programs and support hundreds or thousands of users. | Extremely reliable and stable, these are used by companies and governments to process large amounts of data. They are more secure than PCs. |
| Servers | Greatest storage capacity and processing speeds. | These are subject to crashes and can be upgraded and repaired while operating. |
| Supercomputers | Most powerful computers, now capable of operating at speeds of 280 trillion calculations per second. | Companies can rent time to run projects from special supercomputer centers. |
Figure 19.1: Business computing equipment.
| Application type | Description |
| --- | --- |
| Word processing software | Used to write, edit, and format documents such as letters and reports. Spelling and grammar checkers, mail merge, tables, and other tools simplify document preparation. |
| Spreadsheet software | Used for preparation and analysis of financial statements, sales forecasts, budgets, and similar numerical and statistical data. Once the mathematical formulas are keyed into the spreadsheet, the data can be changed and the solution will be recalculated instantaneously. |
| Database management programs | Serve as electronic filing cabinets for records such as customer lists, employee data, and inventory information. Can sort data based on various criteria to create different reports. |
| Graphics and presentation programs | Create tables, graphs, and slides for customer presentations and reports. Can add images, video, animation, and sound effects. |
| Desktop publishing software | Combines word processing, graphics, and page layout software to create documents. Allows companies to design and produce sales brochures, catalogs, advertisements, and newsletters in-house. |
| Communications programs | Translate data into a form for transmission and transfer it across a network to other computers. Used to send and retrieve data and files. |
| Integrated software suites | Combine several popular types of programs, such as word processing, spreadsheet, database, graphics presentation, and communications programs. Component programs are designed to work together. |
| Groupware | Facilitates collaborative efforts of workgroups so that several people in different locations can work on one project. Supports online meetings and project management (scheduling, resource allocation, document and e-mail distribution, etc.). |
| Financial software | Used to compile accounting and financial data and create financial statements and reports. |
Figure 19.2: Business computing software.
Although most workers spend their days at powerful desktop computers, other groups tackle massive computational problems at specialized supercomputer centers. Tasks that would take years on a PC can be completed in just hours on a supercomputer. With their ability to perform complex calculations quickly, supercomputers play a critical role in national security research, such as analysis of defense intelligence; scientific research, from biomedical experiments and drug development to simulations of earthquakes and star formations; demographic studies such as analyzing and predicting voting patterns; and weather and environmental studies. Businesses, too, put supercomputers to work by analyzing big data to gain insights into customer behavior, improving inventory and production management and for product design.[5]
The speed of these special machines has been rising steadily to meet increasing demands for greater computational capabilities, and the next goal is quadrillions of computations per second, or petaflops. Achieving these incredible speeds is critical to future scientific, medical, and business discoveries. Many countries, among them the United States, China, France, and Japan, have made petascale computing a priority.[6]
In addition to a business's own computers and internal networks, the internet makes it effortless to connect quickly to almost anyplace in the world. As Thomas Friedman points out in his book The World Is Flat, "We are now connecting all of the knowledge centers on the planet together into a single global network, which . . . could usher in an amazing era of prosperity and innovation."[7]
The opportunities for collaboration on a global scale increase daily. A manager can share information with hundreds of thousands of people worldwide as easily as with a colleague on another floor of the same office building. The internet and the web have become indispensable business tools that facilitate communication within companies as well as with customers.
The rise of electronic trading hubs is just one example of how technology is facilitating the global economy. Electronic trading hubs are not reserved for large companies of developed economies, however. Alibaba is piloting an e-hub called eWTP in Malaysia that will provide access to small businesses. As Jack Ma, Alibaba co-founder, said at eWTP's launch, "There are a lot of free-trade zones for efficient trade facilitation, but only for big companies. There is no free-trade zone designed for small companies. I have been shouting everywhere, screaming, that every government should do it."[8]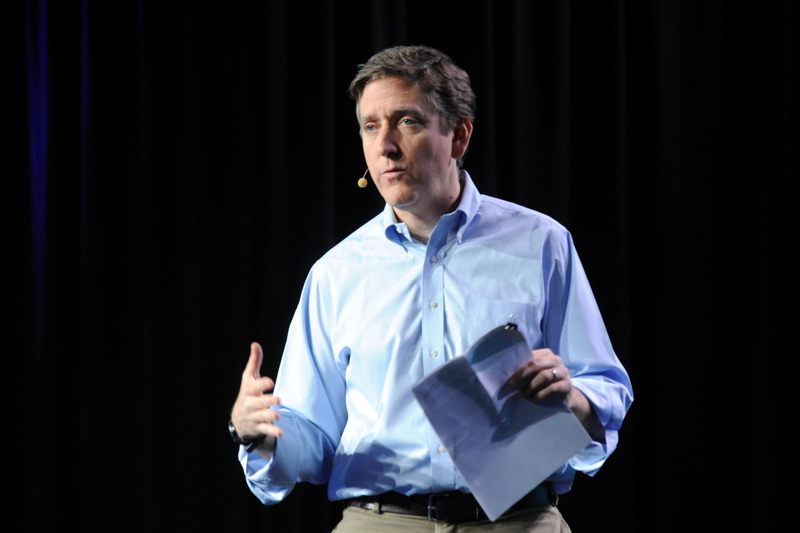 Many companies entrust an executive called the chief information officer (CIO) with the responsibility of managing all information resources. The importance of this responsibility is immense. In addition to the massive expansion of information gathered by today's businesses, most of us are knowledge workers who develop or use knowledge. Knowledge workers contribute to and benefit from information they use to perform planning, acquiring, searching, analyzing, organizing, storing, programming, producing, distributing, marketing, or selling functions. We must know how to gather and use information from the many resources available to us.
In today's high-tech world, CIOs must possess not only the technical smarts to implement global IT infrastructures, integrate communications systems with partners, and protect customer data from insidious hackers, but they must also have strong business acumen. Google's acclaimed tech chief Ben Fried manages the technology necessary to deliver more than 9 billion searches daily, with an eye towards greater business efficiency, growth, and profits.
Because most jobs today depend on information—obtaining, using, creating, managing, and sharing it—this chapter begins with the role of information in decision-making and goes on to discuss computer networks and management information systems. The management of information technology—planning and protection—follows. Finally, we'll look at the latest trends in information technology. Throughout the chapter, examples show how managers and their companies are using computers to make better decisions in a highly competitive world.
Linking Up: Computer Networks
Today most businesses use networks to deliver information to employees, suppliers, and customers. A computer network is a group of two or more computer systems linked together by communications channels to share data and information. Today's networks often link thousands of users and can transmit audio and video as well as data.
Networks include clients and servers. The client is the application that runs on a personal computer or workstation. It relies on a server that manages network resources or performs special tasks such as storing files, managing one or more printers, or processing database queries. Any user on the network can access the server's capabilities.
By making it easy and fast to share information, networks have created new ways to work and increase productivity. They provide more efficient use of resources, permitting communication and collaboration across distance and time. With file-sharing, all employees, regardless of location, have access to the same information. Shared databases also eliminate duplication of effort. Employees at different sites can "screen-share" computer files, working on data as if they were in the same room. Their computers are connected by phone or cable lines, they all see the same thing on their display, and anyone can make changes that are seen by the other participants. The employees can also use the networks for videoconferencing.
Networks make it possible for companies to run enterprise software, large programs with integrated modules that manage all of the corporation's internal operations. Enterprise resource planning systems run on networks. Typical subsystems include finance, human resources, engineering, sales and order distribution, and order management and procurement. These modules work independently and then automatically exchange information, creating a company-wide system that includes current delivery dates, inventory status, quality control, and other critical information. Let's now look at the basic types of networks companies use to transmit data—local area networks and wide area networks—and popular networking applications such as intranets and virtual private networks.
Management Information Systems
Whereas individuals use business productivity software such as word processing, spreadsheet, and graphics programs to accomplish a variety of tasks, the job of managing a company's information needs falls to management information systems: users, hardware, and software that support decision-making. Information systems collect and store the company's key data and produce the information managers need for analysis, control, and decision-making.
Factories use computer-based information systems to automate production processes and order and monitor inventory. Most companies use them to process customer orders and handle billing and vendor payments. Banks use a variety of information systems to process transactions such as deposits, ATM withdrawals, and loan payments. Most consumer transactions also involve information systems. When you check out at the supermarket, book a hotel room online, or download music over the internet, information systems record and track the transaction and transmit the data to the necessary places.
Companies typically have several types of information systems, starting with systems to process transactions. Management support systems are dynamic systems that allow users to analyze data to make forecasts, identify business trends, and model business strategies. Office automation systems improve the flow of communication throughout the organization. Each type of information system serves a particular level of decision-making: operational, tactical, and strategic. Figure 19.8 shows the relationship between transaction processing and management support systems as well as the management levels they serve. Let's take a more detailed look at how companies and managers use transaction processing and management support systems to manage information.
Technology Management and Planning
With the help of computers, people have produced more data in the last 30 years than in the previous 5,000 years combined. Companies today make sizable investments in information technology to help them manage this overwhelming amount of data, convert the data into knowledge, and deliver it to the people who need it. In many cases, however, the companies do not reap the desired benefits from these expenditures. Among the typical complaints from senior executives are that the company is spending too much and not getting adequate performance and payoff from IT investments, these investments do not relate to business strategy, the firm seems to be buying the latest technology for technology's sake, and communications between IT specialists and IT users are poor.
Protecting Computers and Information
Have you ever lost a term paper you worked on for weeks because your hard drive crashed or you deleted the wrong file? You were upset, angry, and frustrated. Multiply that paper and your feelings hundreds of times over, and you can understand why companies must protect computers, networks, and the information they store and transmit from a variety of potential threats. For example, security breaches of corporate information systems—from human hackers or electronic versions such as viruses and worms—are increasing at an alarming rate. The ever-increasing dependence on computers requires plans that cover human error, power outages, equipment failure, hacking, and terrorist attacks. To withstand natural disasters such as major fires, earthquakes, and floods, many companies install specialized fault-tolerant computer systems.
Disasters are not the only threat to data. A great deal of data, much of it confidential, can easily be tapped or destroyed by anyone who knows about computers. Keeping your networks secure from unauthorized access—from internal as well as external sources—requires formal security policies and enforcement procedures. The increasing popularity of mobile devices—laptops, tablets, and cell phones—and wireless networks requires new types of security provisions.
In response to mounting security concerns, companies have increased spending on technology to protect their IT infrastructure and data. Along with specialized hardware and software, companies need to develop specific security strategies that take a proactive approach to prevent security and technical problems before they start. However, a recent CIO article lamented the lack of basic security policies that companies only implement after a hack or data crisis.[29]
Trends in Information Technology
Information technology is a continually evolving field. The fast pace and amount of change, coupled with IT's broad reach, make it especially challenging to isolate industry trends. From the time we write this chapter to the time you read it—as little as six months—new trends will appear, and those that seemed important may fade. However, some trends that are reshaping today's IT landscape are digital forensics, the shift to a distributed workforce, and the increasing use of grid computing.
---